I write it in English now since most of who took part at this spontanous regatta were from other countries than Germany.
First of all, I want to thank You, I did not expect that number of sailors! We still have summer, and most of us are somewhere out in sun and drinking cocktails on the beach (if not in RL, we should do at least in our minds ;))
6 sailors showed up, with me 7. The "Laser" was the boat of the day now..  for me kinda new boat, and I had tried hard the days before to become comfy with her (and thought I'd become;)).
I appreciated a lot that most of us showed up at line early, so we could get in touch with the "IPad" and setting the wind for race. The race wind disappeared after raising and mooring (will talk to Dutch about it when I'll meet him in Hamburg;)).
In race..  and of course happened to me ;))  we also saw that race wind disappears too once You capsized.
All in all, we had good races, and noone crashed. My DNF was cause I lost camera control, an issue happens a lot these days, no matter what boat. I really messed up though in that race, so my last place was more than valid.
Ralfi's DNS was cause a snake visited him in RL in his home ;))
In race #2 the fleet got rammed by a (crashed) boat, so Ronin missed the boat. All in all..  good races! And while I was watching races #2 and #3 from above, I felt in love again with my old role as RD/ judge ;-)
Thanks to everyone who joined, I appreciated a lot!
Here are the results of the 3 races: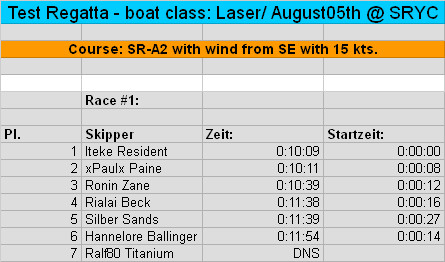 LG* Silber