Am nächsten Samstag starten wir nun endlich in die Regatta Saison 2013!
Los geht es mit der ersten von vier Regatten im NY 30 Long Distance Race.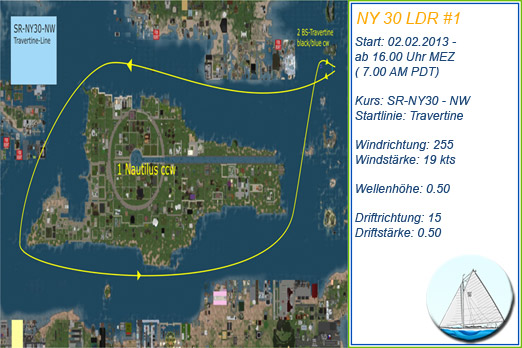 Den Kurs findet Ihr ab heute Abend auch in unserem Rattenclub !
Das Anmeldeformular für dieses Event steht noch bis Freitag 01.02.2013 23.59 MEZ zur Verfügung. Also auf gehts und fleißig anmelden ;-)
Gruß, Ralfo
3 Reaktionen zu "NY 30 Long Distance Race #1 – Samstag 02.02. ab 16.00 Uhr"
Hi!
Could you please confirm the day and hour for the Round One Start in Second Life Time? :-) Some of us are confused. :-)

am 01 Feb 2013 um 18:03

2

Silber Sands

Hi Jane,

it is: Saturday, Feb.2nd, starting at 7:00 AM (SLT).

LG*Silber

Thanks!
Kommentar hinterlassen